The Click & Grow 25 - The most space and energy efficient indoor garden system that will grow an abundance of greens and herbs for you.
The garden takes care of watering, lights and the connected app gives you real time updates and tips on the progress of your plants. Ready to start you indoor greenhouse?
What makes The Click & Grow 25 unique is the patented tray system that creates the perfect cycle of growth, meaning you'll always have enough yield to add to your dishes at all times. Insert pods from one end, harvest from the other. Continuously.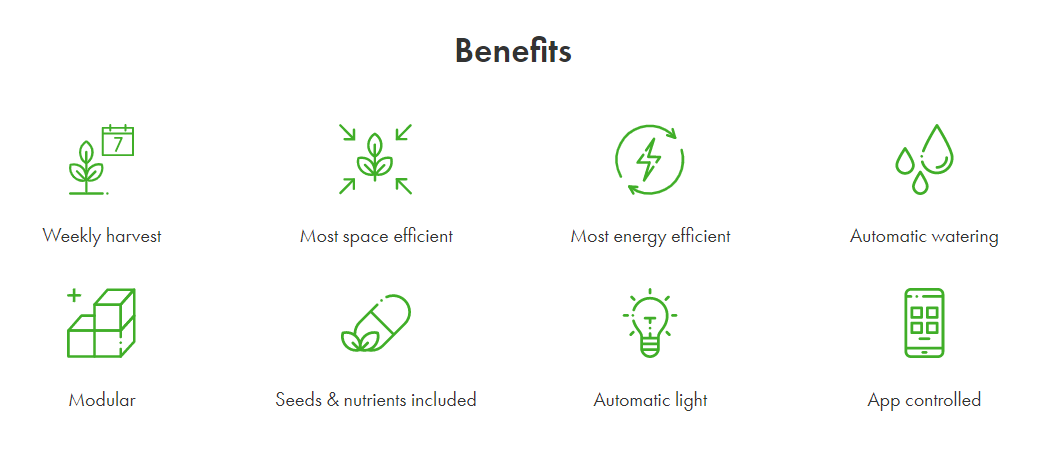 The unique tray system guarantees a weekly harvest
A tray with ready-to-harvest greens can easily be removed from the garden, replaced with another to start growing the next cycle, and taken to the table where you eat or kitchen counter where you prepare your meals. The plants in the removed tray stay fresh for up to a week, keeping all of their nutrients intact and avoiding food waste.
Stack the units to match your needs
The Click & Grow 25 is fully modular and customisable. Grow anywhere from 25 to hundreds of your favourite greens at home with ease. Stack units on top of each other to increase the output so that it fits your home and the size of your family.
Space efficient
The unit takes up just 3.2 sq ft/0.3 sq m of floor or countertop space and you're able to grow 25 plants simultaneously per module/unit. By stacking three modules on top of each other, you're able to increase the output to 75 plants on the same floor space.
Energy efficient
One module uses just 200 kWh or 24$/20€ worth of energy per year meaning you'll not see a dent on your electric bill. That's 10 times more sustainable use of energy per plant compared to many common alternatives.
The Bluetooth app will give you full control
No more worrying whether you're doing everything right. The app will take the guesswork out of growing greens in your at-home greenhouse.
With the app you'll get:
Control the light features
Notifications on when to fill the water tank
On demand plant information based on what you're growing
Personalised suggestions based on your growing history
Plant updates and tips on when to and how to use your harvest
Product specifications
Each module comes with 6 trays - 1 you can use for harvesting or storing the herbs you plan to harvest and 5 to always have in the garden producing new greens.
Measurements: 29 x 16 x 20.6 inches | 74 x 41 x 52,5 cm
Floor area: 3.2 sq ft | 0.3 m2.
Plant capacity: 25 plants per 1 module
5 trays per module, 5 plants in each tray (5x5)
Vertically stackable; 3 modules max
Two finishes/colours available - choose between oak wood + white panels or oak wood + black panel
Get your Click & Grow 25 here!