When and how to add water?
You can use the water level indicating float to monitor the overall water level. When the float hits the bottom of the tank and you can no longer bob it up-and-down with your finger, it's time to refill the tank. The water tank lasts for about 2-3 weeks, depending on the plants but you can definitely fill up the tank sooner if necessary.
The Smart Garden 3 needs about 1.3 L/44 oz of water.
The Smart Garden 9 needs about 4 L/135 oz of water.
Make sure the water level indicator doesn't rise above the surface of the lid to avoid over-watering.
Filtered or tap water?
Regarding watering, filtered water or softened water may essentially cause the plants to die from dehydration. Salt (sodium) will build up over time and may gradually cause degradation in the soil quality. Some species are more affected than others.
For this reason, we recommend using tap water. However, tap water sometimes (depending on the region) causes limescale in the water tank, which in turn may clog the water transmitting wicks. Cleaning the water tank and wicks in a warm vinegar solution helps to remove limescale when necessary.
How to avoid overwatering?
The Smart Garden is designed to monitor the water level on its own. However, it is crucial to avoid adding too much water to the water tank.
If you pour too much water inside, the system does not regulate properly - the water level indicating float should not rise higher than the garden surface.
The correct float level is shown here: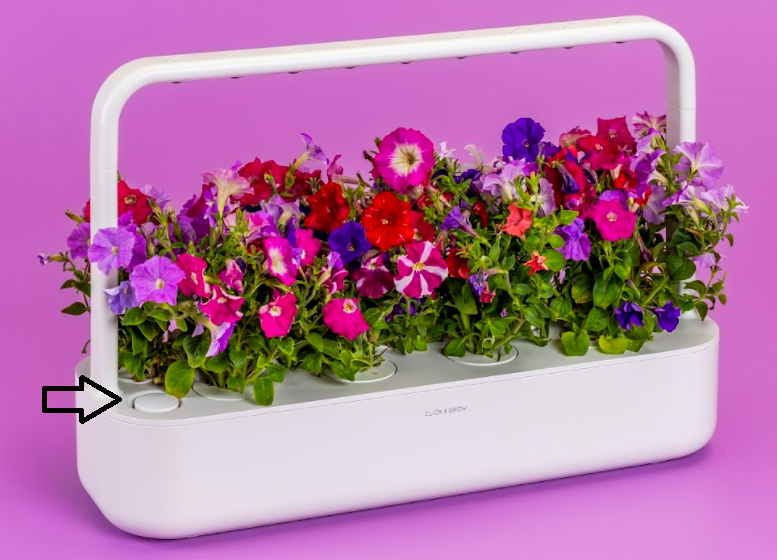 Why is the soil dry?
Sometimes your plant pods are not getting any water even though you have filled the garden with water according to instructions. The pods remain completely dry and the plants won't grow, although the float is showing that the garden is full of water. Usually, this indicates problems with wicks, and these issues are very simple to solve on your own.
Find further information here:
https://support.clickandgrow.com/hc/en-us/articles/360001574447-Help-My-plants-are-not-getting-any-water-