So, you are looking into our latest subscription?
This subscription plan has monthly payments to help our customers to spread the cost of the plant pods.


When you sign up for a plant pod subscription, you will choose a shipping interval and the number of pods you wish to receive.
The cost of the pods will be divided throughout the months between the shipments.
In other words, in between the shipments, you will be paying for the pods that you have already received.

Please refer to the example below:
​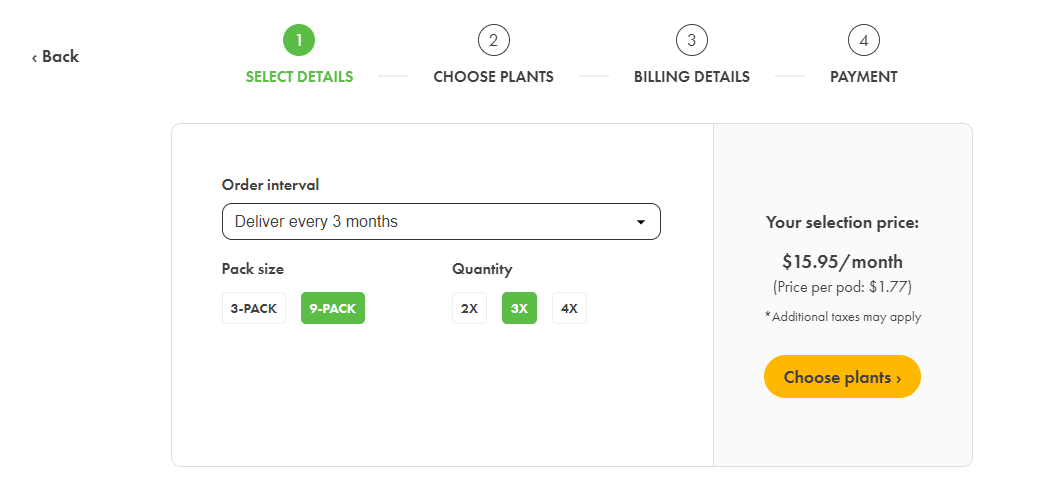 The above example subscription reads as follows:
This customer wishes to order a plant pod subscription with an order interval of 3 months.
Each delivery will include 3 packs of 9 pods each (a total of 27 pods), the cost of the delivered pods is divided between the 3 months, and the monthly payment is 15.95 USD + taxes that may apply depending on the region of the customer. Free shipping applies to all subscription orders.
If the customer starts this subscription plan in January, their first shipment will be shipped out in January and their next shipment will reach them in April. In the meantime, there will be payment-only orders in February and March that are instalment payments to the pods delivered in January.